Starting in November, seasonal markets are set up in Puerto Vallarta and Riviera Nayarit. La Cruz Market, Riviera Farmers, Olas Altas Market and Art & Market Marina Vallarta are meeting points between local artisans and the foreign community.
The consumer trend towards natural, organic, sugar or gluten free is on the rise. And for some years there has been talk of the importance of consuming what is produced locally to strengthen the regional economy. Basically, it is about helping our neighbors by buying their products, and ourselves by consuming healthier and more nutritious products. Also made by hand, with the artisanal value that this entails. Thus, for several years the communities of the Bay, they began to organize small local farmers and artisans markets. Today these spaces have been consolidated, and are a meeting point for small merchants that sell excellent quality products and alternatives to that commonly HE found in stores and supermarkets.
For tourists, this type of market has become a meeting point between local artisans and the foreign community. Here art, culture, gastronomy, music and traditions converge. SAbove all, the opportunity to delve into the fantastic world of "organic or handmade" and away from industrial processes.
We took a tour of the busiest markets. These are the seasonal markets of Bahía de Banderas.
Originally it was born as Old Town's Farmers Market and it changed its location according to space needs. For a few years he has been staying in the Lázaro Cárdenas square, now known as Parque de los Azulejos, in Olas Altas, in downtown Puerto Vallarta.
You can find the Farmers Market every Saturday from 9:30 am to 2:00 pm from November to April. Here you will find fruits and vegetables, organic coffee, artisan bread and cheese, strawberries and blackberries, peanut butter, and food areas with many prepared foods such as vegan tacos, mixiotes, Argentine roast and empanadas, paella, hot dogs, etc.
Also clothes, bags, wallets, belts, handmade bracelets, blown glass figures, baskets and palm baskets, original photos printed on wood, papier-mâché handicrafts, ceramic objects, soaps, spa products and even a chiropractor. The space is enlivened with live music on chargeor various groups and local artists.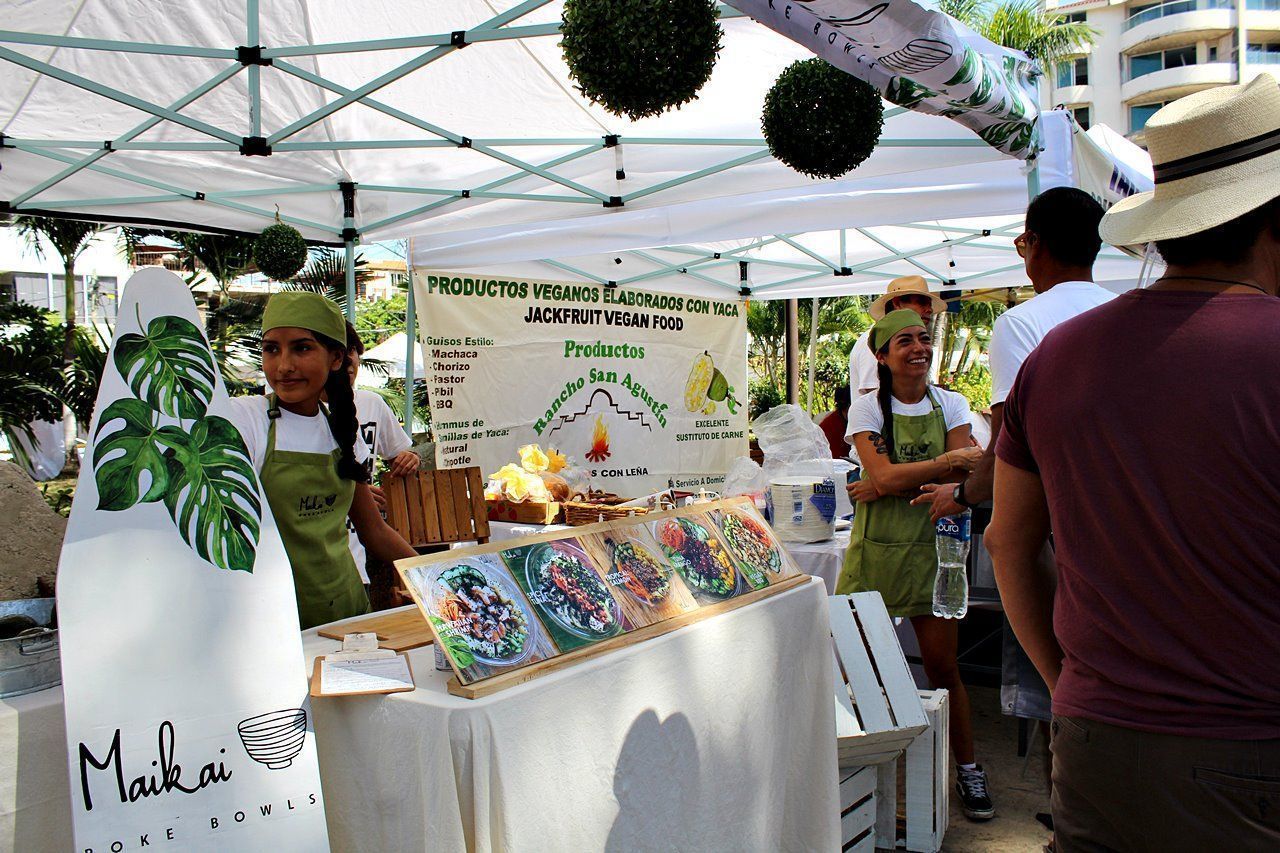 Another brightly colored market on Thursdays from 6:00 pm to 10:00 pm is the Marina Vallarta Art & Market. A walk with stalls or sales stands along the Malecon of the Navy that is enlivened with presentations of dance and live music.
Its product offering is very varied. Pyou can find from clothing, huaraches, caps, belts, bags, pareos, rugs, handicrafts, until jewelry, jewelry boxes, ornamental objects, cups, glasses, lamps, piggy banks, organic coffee, dairy-free natural bread, fresh pasta, peanuts, dried fruits, among others.
You will also find a wide variety of international food: Italian, Thai, Greek, Indian, Spanish, Argentine, Uruguayan, Venezuelan, Mexican appetizers, French pastries, Arabic sweets and the traditional carafe ice cream but with original flavors.
This market is installed in the rear parking lot of the Nuevo Vallarta Business Center. Local products, handicrafts, jewelry, costume jewelery, home decorations, paintings, clothes, tablecloths, rugs, cosmetic products, essential oils, flowers, cigars, etc. are offered in its stalls.
Among its food stalls you will find artisan bread, cheeses, fresh pasta, paninis, vegetables, pastries, honey, jams, sweets and nuts. Also prepared foods such as sandwiches, tamales, chilaquiles, stew tacos, huaraches, chilangos snacks and food from various countries such as Argentina, Spain, India, Lebanon, Italy and France.
The place is enlivened with live music by local artists. You can find it every Tuesday from 9:00 am to 2:00 pm until April 30, except for December 25 and January 1. Those dates are covered on Monday, December 24 and 31, respectively.
Every Sunday from 9:00 am to 2:00 pm, the boardwalk of the La Cruz de Huanacaxtle marina is filled with stalls with a wide variety of items and products. Many of them are original creations: clothing made in Mexico, organic soaps and creams, pet supplies, home decorations, flowers, and jewelry.
The gastronomic offer includes bread and artisan cheeses, organic coffee, chocolate from Chiapas, pastas and sauces. Also a great variety of prepared food such as crepes, mixiotes, quesadillas, pizzas, hot dogs, fresh drinks, etc.
Also becomes an open-air gallery with paintings, sculptures, live music, dance and workshops for children.
The market has free parking.
Latest posts by Abraham Gutiérrez
(see all)